Explore SoCal museums and other great destinations for free.
With your LA County Library card, you can reserve passes to Southern California museums for FREE through Discover & Go, a program that partners with LA County Library to offer free and low-cost passes for museums and other cultural destinations.
How to Reserve a Pass:
Visit the Discover & Go portal and log in using your library card number and PIN.
Browse by museum or date.
Make a reservation by selecting a date and venue.
Shortly before your visit, print out your pass.
Note: You cannot cancel your passes once they have been printed.
Enjoy your visit!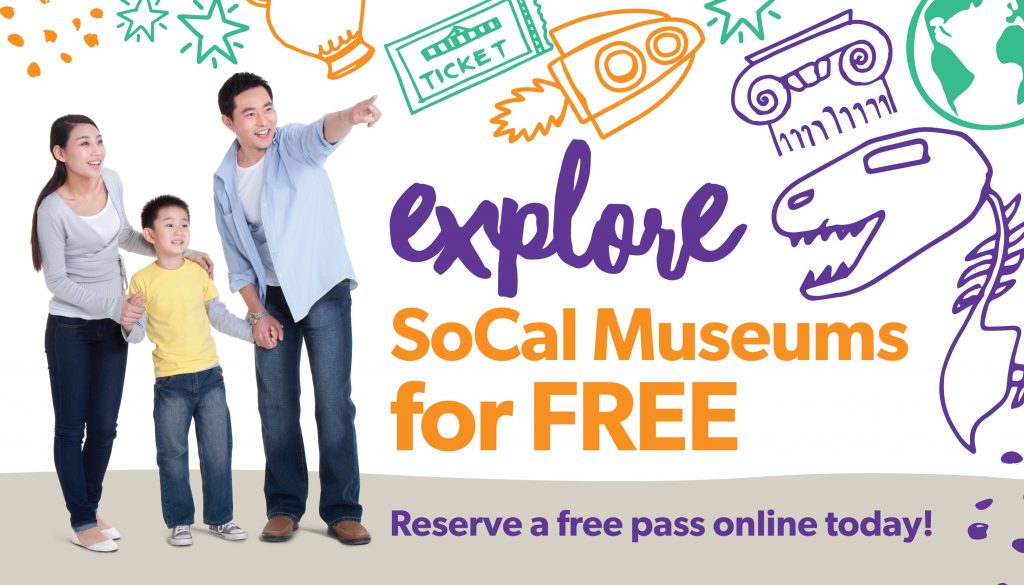 Program Requirements:
Only adults ages 18 and over with a full access library card in good standing can reserve Discover & Go passes – this means your account is not barred or blocked. Digital library cards may not be used to reserve passes. Contact your local library to check on your account status.
Notes About Pass Reservations:
You can make reservations up to 3 months in advance. New tickets are released on the first of each month.
All free tickets are first come, first served, until all tickets are exhausted for the month.
You can have up to 2 active reservations at a time.
Please read all the details on each venue before making a reservation, as details vary for each museum.
For some museums, passes are restricted to 1-per-calendar-year per customer. Double check the dates for these, and don't print them until you're sure you can attend!
Reservations can be canceled only if the pass has not been printed. Log into Discover & Go to cancel your reservation online.
The pass is only valid for the name and date on the pass. Valid photo ID is required for admission.
1. Do I have to live in Southern California to reserve a Discover & Go pass?
Yes, only residents living in zip codes 90000 – 93599 can reserve a pass using an LA County Library card.
2. Can I reserve a pass for my child or using my child's card?
No, museum passes can only be reserved by an adult (18+) with a full access library card in good standing. Digital cards may not be used to reserve passes.
3. How far in advance do I need to reserve museum tickets?
You can view dates of availability up to 3 months in advance, starting on the first of the month, and many passes go quickly! However, you can also reserve a pass as late as a day before you plan to visit, based on availability.
4. How many people does each Discover & Go pass admit?
It depends on the museum. Some family packs allow 4 people to attend, some just 2. Please read the details of each museum to find out more.
5. Are parking fees included?
It varies, each museum offers different discounts. Please read each individual museum description for more details.
6. How many Discover & Go passes can I reserve?
You can have 2 active reservations at a time. For example, if you make a reservation for a visit next month and another reservation for a visit this Saturday, you can make a new reservation as soon as your Saturday visit is complete. Having 2 active reservations will block you from making additional bookings for future dates.
7. The date I want to attend isn't available. Is there a waiting list for tickets?
No, the program is first come, first served. If a pass is booked on the date you want, you must select a different date.
8. How will I receive my Discover & Go passes?
Once you reserve your pass, you must click View/Print Pass, and then print it out and take it with you to your museum visit. If you have forgotten to print the pass and need to return to print it, simply return to LACountyLibrary.org/discover to access the Discover & Go portal, and log in again. Please note: once you click the View/Print Pass print button, you cannot cancel your tickets. They will remain on your account until the date of your reservation.
9. Can I use my mobile device to reserve passes?
Yes! However, please note that some museums don't accept mobile passes, and you may still be required to print out a paper pass—please check with the museum directly. Also, if reserving a pass on a tablet, please note there is currently no way to print from an iPad or iPad Mini, as the View/Print Pass button does not show up. Please use a computer to print out your pass.
10. What do I need to bring with me the day of the museum visit?
Please bring the printed Discover & Go pass and a valid photo ID. The name on the pass and ID must match.
11. Can I cancel an active Discover & Go reservation?
If you have not clicked View/Print Pass and agreed to the warning, you can cancel. To cancel a pass, log in to your Discover & Go account and click Cancel Pass in the top menu. Click Cancel next to the museum you have reserved.
12. I didn't use the tickets for the date I reserved them, can I use them another day?
No, if you do not use them on the date reserved, you will lose your pass. Please note: Some museums only allow you to reserve for their museum once a year, so do not print out the pass if you think you may not make it on that day. You can cancel it and free up your passes for another time.
13. I am unable to login to Discover & Go.
Please contact your local LA County Library location for assistance, as there may be an issue with your library card number or PIN.
14. Why is my favorite museum not on your list of partners? How can I get them to be a part of this program?
All southern California museums are encouraged to be a part of this program, and we're thankful for our partners! If you know that your local museum would like to be a part of Discover & Go, please provide a contact person who we can share the information with, and email us at discoverandgo@library.lacounty.gov